Connected health devices are widely used by smartphone users and this trend has accelerated over the last two years for older adults, according to one of ON World's Q4 2021 connected health surveys with 350 smartphone users aged 55 and older.
This survey found that three quarters are "Likely" or "Very likely" to share health data with healthcare providers which is about 45% higher than a previous survey completed in February 2020.
Phone calls and email/text are the most widely used remote health data sharing methods but vital sign monitors, medicine dispensers and live video chat are the fastest growing. Respondents planning to use vital sign monitors is double the number who used these over the past 12 months. Almost 7% are planning to use smart medicine dispensers in the future compared with 4.4% who used them over the last 12 months. Nearly half are planning live video chat versus 35% over the last year.
Remote Sharing Method of Health Data with Healthcare Providers,
ON World, Q4 2021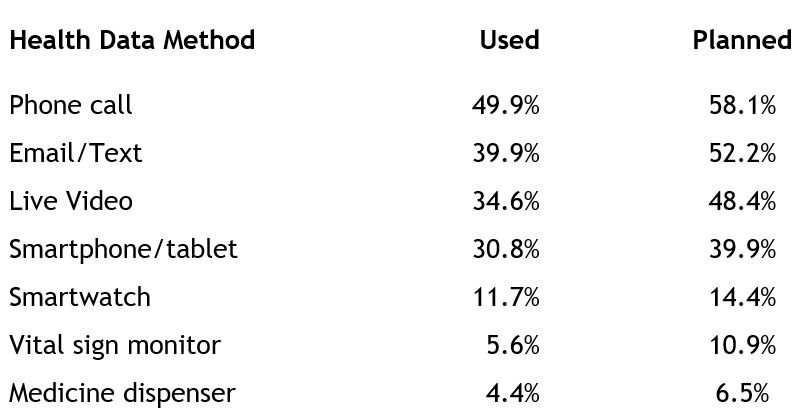 The methods they used to share health data with a healthcare provider in the past 12 months include phone (50%), email/text (40%), live video (35%), smartwatch (12%) and vital sign monitor (6%).
Future methods they are most likely to use include phone (58%), email/text (52%), live video (48%), smartwatch (14%) and vital sign monitor (11%).
The connected health devices that respondents have used or are planning to use include a blood pressure monitor (46%), smartwatch (45%), weight scale (42%), thermometer (32%), oximeter (24%), glucose meter (20%), sleep monitor (25%) and cardiac/ECG monitor (25%).
The biggest connected health concerns are Privacy/Security (66%), Costs (52%) and Complexity (35%).
For more information about our customized research studies and datasets, please contact us at:


About ON World:
ON World provides market research and business intelligence on Internet of Things (IoT). Since 2003, our research reports, datasets and customized research services have been used by Fortune 500 companies, investos and developers worldwide to advance IoT solutions in hundreds of industries.
Back to News