According to a recently completed survey by ON World, fitness is the most popular mobile sensing application with over half of likely wearable tech users choosing to use their device for activity tracking.
San Diego, CA January 29, 2015— Consumer adoption is accelerating for wearable health and fitness devices, according to a recently published survey by ON World.
"Adoption for mobile sensing health and wellness devices continues to grow with fitness apps such as activity tracking leading the way," says Mareca Hatler, ON World's research director.  "Bluetooth Smart provides ubiquitous connectivity to smart phones and tablets for a growing mobile healthcare ecosystem driven by intensifying challenges for patient monitoring, diabetes management and an aging population."

ON World's recently completed survey with 1,000+ U.S. adults found that 35% are likely to purchase a wearable tech device and over half of these are likely to use their device for activity tracking followed by heart rate monitoring, sleep monitoring, blood pressure and elderly care.
Compared with ON World's previous survey in Q2 2014, 39% of respondents interested in wearable tech are likely to purchase activity trackers up from 32%.  Smart watches are likely to be purchased by 44% up from 42% in the previous survey.  Forty-four percent (44%) of the likely wearable tech consumers are willing to pay at least $99 for a wearable tech device and 10% are willing to spend $299 or more.
Concerns about privacy and security has now surpassed cost that had been the number one concern in ON World's previous consumer mobile sensing survey.
 Mobile Sensing Health & Fitness Consumer Survey 2015 may be purchased separately or as part of a report set.  More information is available from ON World's website.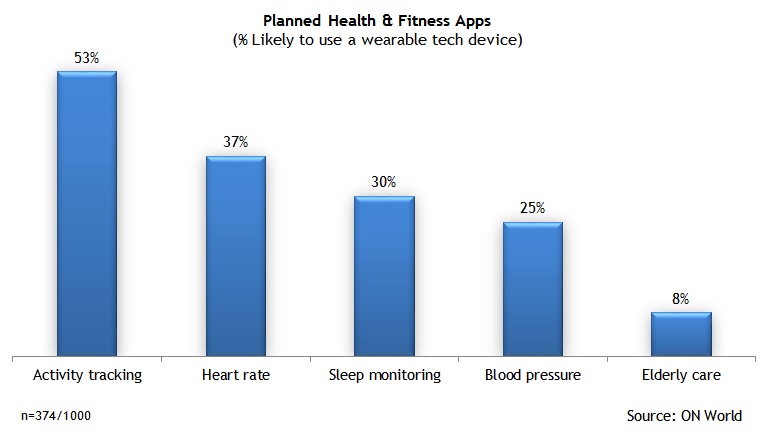 About ON World:
ON World provides global business intelligence on smart technology markets. For the past decade, our research reports and information services have been used by Fortune 1000 companies, startups and investors worldwide.
Media contact:
Mary Purvis
e: purvis at onworld.com
ph: 858-259-2397
Back to News